Nikki Voss


(Japanese:ニッキヴぉっす)


NAME INTERPRETATION:
ニッキ (Nikki; Nikki) - Regular name
ヴぉっす (Vu~ossu; Voss) - Regular surname

TYPE: Moriloid (UTAUloid)
MODEL: 02
GENDER
Female
VOICE RANGE
D3-A#4
RELATED CHARACTERS

Valencei Fiore
(Best friend) 
Valen Fiore
(Friend) 
Nikolai
(page coming up) 
Royann
(Adopted brother) 


AGE
18
GENRE
Any
HOMEPAGE
Here
WEIGHT
45Kg
CHARACTER ITEM
CREATOR
HEIGHT / MEASUREMENTS
1.53 m
VOICE SOURCE
Luka
PICTURE LINK LIST
Coming up
BIRTHDAY
LIKES

Apple pie

MEDIA LIST
Soundcloud
RELEASE DATE
-
DISLIKES
SIGNATURE SONG
KiLLER LADY

PERSONALITY: 

Character Design
Edit
Hair color: White
Eye color: Green
Shirt: Seethrough pink with vatious decorations. Strapless pink shirt underneath.
Gloves: White. Elbow length.
Pants: Highwaisted ashy beige skirt with suspenders and various decorations.
Legs: Light yellow thigh highs and brown knee height boots.
Extra: Sheep-like headset with decorations.
Nationality: Unknown.
Catchphrases
Edit
"If you touch that apple pie you are SO dead. That is MINE. I saw it first!"
"And THAT'S why I should be in charge."
Voice Configuration
Edit
Nikki is not the default voice of this voicebank. To get her voice, add g-10 to the flags.
CV voicebank encoded in both Romaji and Hiragana.
No VCV yet, will be there in the future.
CV 
Contains all common syllables. Encoded in both Romaji and Hiragana.
Download coming soon
Use resampler for best result.
"so do you want children?" "no not really, I mean we're already taking care of ro!" "what if your husband wants children" "uh" "do you even want to get married?" "idk" "you'll never find a good husband with that attitude nikki-" "i love tiddies"
Usage Clause
Edit
You are free to cover any song you wish, no matter what the subject or message is.
Except songs that support racism, homophobia, transphobia, or any other discrimination/offensive matter.
It is not allowed to make money in any way by using this voicebank.
Please do not edit this voicebank and claim it as your own (so no pitchbending or other edits).
Don't copy/steal the character designs.
Credit me when you upload a cover!
Please tag any covers you upload with "Nikki Voss". I would love to see what you create!
Concept Art
Edit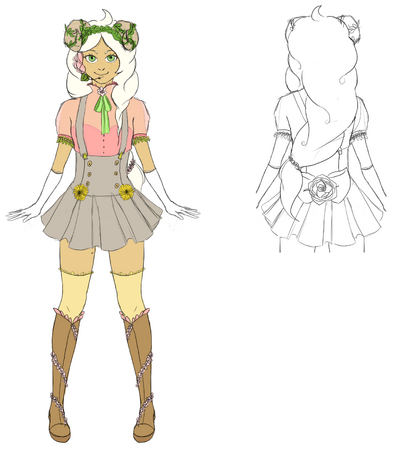 This article has been written by the creator of Nikki Voss.
Please do not change any info.